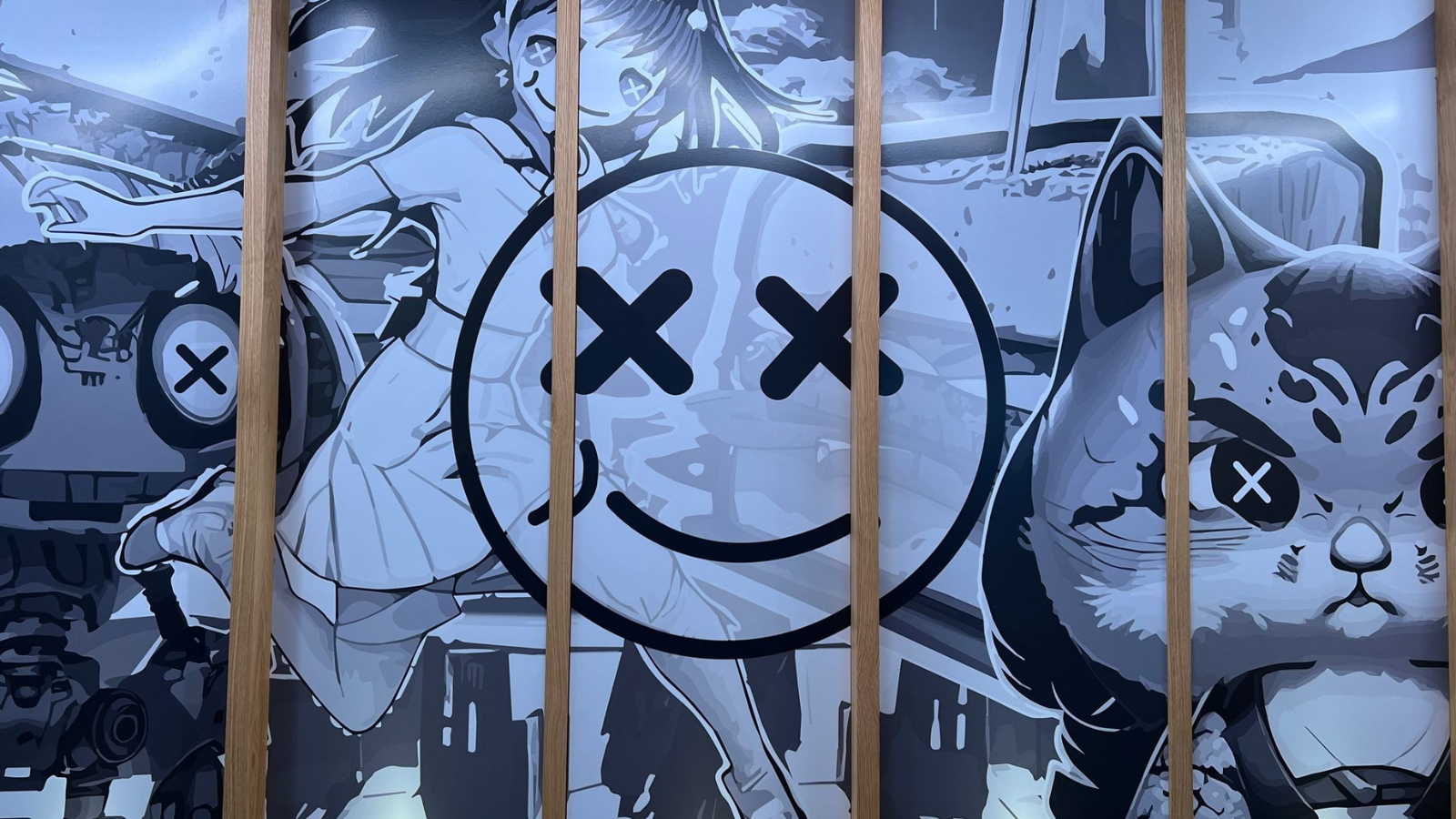 Shokupan: A Bready Blockbuster, Or Grand Central Gimmick?
Sleek, modern and fresh. Shokupan has the potential to become a lunchtime hotspot and a real crowd pleaser, but has this Japanese bread shop done enough to avoid becoming another gimmick of Grand Central?
Amongst the hustle and bustle of Birmingham's busiest train station, a new neon food joint is welcoming customers. With its monochrome graphics and comic book decor, Shokupan's effortless Japanese cool drew our attention as we scoured the walkways of Grand Central in search of lunch.
With its booths and comic-con display areas filled with action figures, lego, collectors items and branded merch, Shokupan feels like every indie-hipster coffee house you've ever seen and that's by no means an unwelcome aesthetic, in fact, it very much suited the upper floor corner of Grand Central in which it is situated. 
We were ushered in by a delightfully friendly front of house staff and were given menus which were filled with description-less but fascinating lunch items to pick through. Shokupan, as we discovered, is named after the popular thick, sweet bread from Japan and here it is baked fresh everyday. 
Whilst most of the lunch items gave us serious Tokyo street food vibes, amongst the lunch options, something slightly less Japanese inspired caught our eye. The Detroit Steel Pan Style pizza caught us off guard. Japanese street style meets US street food… This might be a match made in heaven!
We opted for a slice of pizza and a Shokupan classic Hot Pepper Chicken Hottie. While the latter may need a name change as 'hot' in this case refers to its chili heat and 'hottie' refers to the fact that this is more like a toasty, we were a little disheartened that one of us had ordered their food as a meal, which should have included both a drink and fries, though neither arrived and we were not charged for them. 
Our food took 10-15 minutes to arrive but as we were seeing Shokupan before its official launch, we were happy to wait a little longer. Our meals arrived in fantastically cool packaging, with graffiti-esk smiley faces stenciled onto black and white boxes in bags marked with their slogan "we are the change" emblazoned on one side. One thing is for certain, this brand certainly has confidence and style to succeed.
 Our team's reaction to the food was mixed. The Detroit pizza which had been made with a shokupan dough looked… well, like a slice of pizza with its single slightly-sad basil leaf wilting on top. For £3.85 it wasn't particularly big… in fact it seemed rather small in its box even if it was assuringly fresh and tasty.
The star of the show however, was the hot pepper chicken Shokupan. It was an impressive piece of food with wedges of bread which were sweet, fluffy and thick enough to prop a door open with. This signature menu item definitely had the wow factor when we opened the box and we were hit by a wall of sweet and savory steam. 
To our tired, hungry minds the sight of huge slices of bread goes a long way in making your brain go 'mmmm carbs' and devour the lot… and boy was it delicious! Our hottie (toastie) was fresh and filling. The chicken had a little heat to balance out the sweetness of the bread and although menu items were missed, we weren't charged for them and so this showstopper cost just £4, an absolute steal.
However, this meal (when it includes both a drink and fries) would normally cost £8 to takeaway and that presents Shokupan with a challenge. When surrounded by cheaper takeaway options and more expensive but more substantial restaurants, Shokupan will have to be careful to avoid becoming a gimmick of Grand Central, and we think it will face an uphill battle. Shokupan is another quirky (though delicious) eatery in a building which is filled to bursting with quirky and delicious eateries.
Fresh bagels, sushi, bubble tea, champagne, freshly made tacos and desserts are a dime a dozen in this part of town. Across from Shokupan is Yo Sushi and at the very heart of the station sits Wasabi, which charges similar prices for its extensive Japanese cuisine and arguably offers more creature comforts. 
Unfortunately for Shokupan, this is where it will need to fight tooth and nail to remain relevant. The interior, though stylish isn't quite comfortable enough to stay in for hours as you would with a mainstream coffee shop like Starbucks, it's slightly too expensive to be your regular lunch spot (especially with Tesco's bland but cheap meal deals directly opposite) and it's menu is not large enough to cater for groups of friends looking for a larger meal.
With that in mind Shokupan as of launch, doesn't necessarily own its niche enough to make it stand out amongst its competitors beyond its gimmicks.. A nice bite to eat for a one off lunch but not striking enough, or cheap enough for a return trip… for now!
We hope (and we really mean this) that it sticks around long enough to own its space and become something really special. It absolutely has the potential to do so and as winter comes into full swing, we hope that the aroma of fresh sweet bread drives us back for seconds.