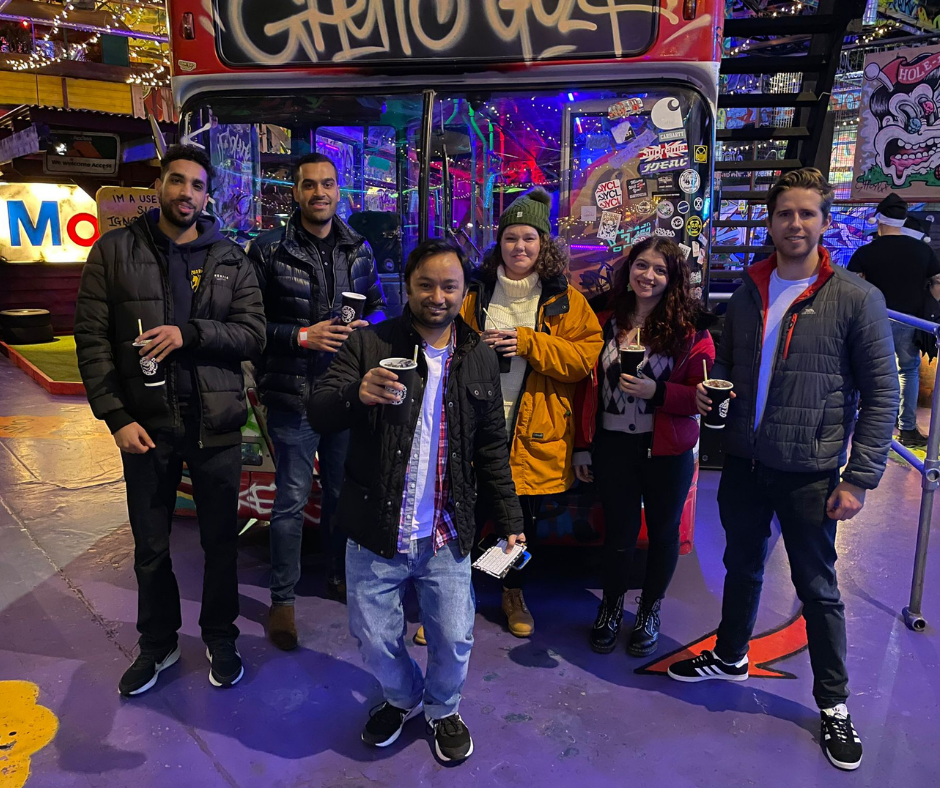 Top Team Building Destinations In Birmingham
Every month, the team takes some time to unwind, socialise and celebrate our wins. It's a welcome reward for our hard work whilst letting us explore the city and all it has to offer. We've put together our list for the best destinations for team building in Birmingham so that you know where to go for your next team get-together.
Flight Club
Flight Club is definitely the designation for a competitive team. This is not your typical game of darts. Flight Club has put a modern spin on the classic pub game with its variety of game types, instant replays and unlimited boomerangs for the 'gram. The pseudo-victorian circus style really sets this place apart from its neighbours and as a team, we loved the mix of competition and teamwork to find out who our resident darts pro was.
We also noticed that it had a lot of vegetarian and vegan food options available and there was a good selection of cocktails, mocktails and non-alcoholic drinks which catered for the whole team.
Ghetto Golf
Crazy golf has been given a serious upgrade at Ghetto Golf. With wonderfully weird courses including the inside of a double decker bus, a replica of a traditional english pub and an old Blockbuster store all beautifully lit in neon paint and glow in the dark street art, Ghetto Golf proved an instant favourite for our team. Healthy competition kept things interesting but it was casual enough to let us laugh at each other's mishaps and praise the occasional hole-in-one. 
Pick & mix inspired cocktails and classically american food (we loved the loaded fries) rounded off our away day. We would recommend booking your afternoon off for Ghetto Golf as it can be tricky to get to and our game lasted just over an hour, excluding food. However, it was absolutely worth it.
Roxy Ballroom 
Half length lanes, double the fun! Based in Digbeth, this bowling alley is a real crowd pleaser for any team building event. Offering seven games from ten-pin bowling to beer pong and basketball there are plenty of activities which can be done as a team or as individuals and offers a real departure from the busy city centre. Full of colour and character this venue has events, food and drinks packages designed to cater for 14+ people, making it an ideal spot for large groups looking for some down time at the end of a hectic month.
Albert Schloss
An alpine retreat right in the heart of Birmingham, Albert Schloss is a melting pot of German, French, Austrian and Swiss cuisine, inside a giant log cabin. It's rustic European food at its best and our team had a fantastic experience wining and dining here. For our team the lunch time service provided us with a space to relax, eat well and talk as a group without shouting to hear each other. With its large open fire and alpine aesthetic, this is definitely a spot for a cold winters day and for a team lunch, this is our recommended spot.
Our team building sessions are loved by all of us at Siren Search and we cannot wait to see where we will end up at the end of a very busy June! If you are looking to get your team out of the office for something smaller we have you covered! Click here to see our top picks for cosy coffee shops to work from in the city centre.