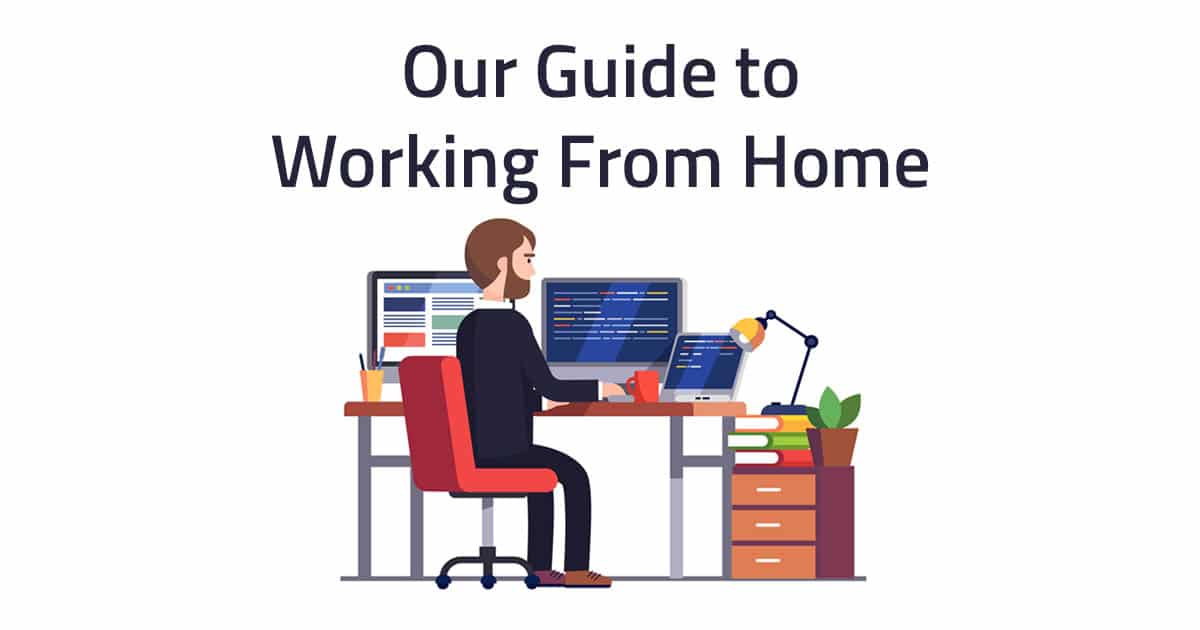 Working From Home – Our Guide
Along with lots of other businesses in the country, Siren Search has transitioned to Work From Home, to help keep our team, and others, safe and healthy.
For us, it's a chance to show how we trust the team, because unfortunately a lot of businesses don't feel they can do this. What's more, working in Marketing and using tools online to operate, means that we can operate 100% capacity remotely as we would in the office through the use of technology.
However, working from home for a lot of people can seem alien, and hard to stay productive.
We've rounded up the team's thoughts from this week, to give you our top tips for working at home.
Working From Home Survival Top Tips
Here are some of our top tips, and thoughts from the week…
Don't Stay in Your Pyjamas! (Or bed!)
Having the luxury of working from home may tempt you to stay in your pyjamas all day, but we found that this was the best thing to avoid falling into straight away! Keep as much routine as possible, including having a set place to work from – such as your dining room table. This helps your brain to distinguish between work and relaxation which will help you sleep better.
Be as Sociable as Possible
Whilst we are all practicing social distancing, it's important to still maintain social interaction. For example, every morning the team continues to do our Stand Up meetings, all on video call. By having our cameras on, we get to have that face-to-face interaction that we may otherwise not have (also another reason not to stay in your pyjamas!)
Set Realistic Goals
It can be easy to become distracted in your work day, and that's why we would recommend writing a to-do list at the start of each morning. This will give you focus so that distractions don't get a look in. Make sure your goals are realistic, if you have a young child at home – chances are you won't be able to do back-to-back calls all day. Instead, think about when you are most productive, and use this time to get as many tasks complete as possible.
Breaks Are Vital
Whilst you don't want to be slacking, your brain will naturally need more breaks. What's more, the lack of fresh air might make you feel less productive. We recommend having a tea break in the garden, or sit on your front step for a few minutes to watch the world go by. Our team member Emily has started to prune her lavender plant in her lunch break – and feels a lot more productive for doing so!
Use your 'Commute' to Set Yourself Up For The Day
Whilst it might feel good to have a lie in when you would normally be commuting, you could instead use this time to set yourself up for the day. Use this time to do yoga, read a book, call a loved one, or even a speedy HIIT workout. The world (or your home) is your oyster.
Out of Sight, Out of Mind
When our minds wonder, it's often easy to pick up your phone and start scrolling on social media. However, this is an easy way to get stuck down the rabbit hole, and before you know it – you've missed two deadlines and three calls. So, turn your phone upside down and put it out of reach – you're less likely to go on it if you have to physically stand up and move to get it.
In a time when things can be a little overwhelming or uncertain, it's important to also look after your mental health. Regularly check in on your colleagues to see how they are doing – not just work wise. A little message or funny meme can go a long way.