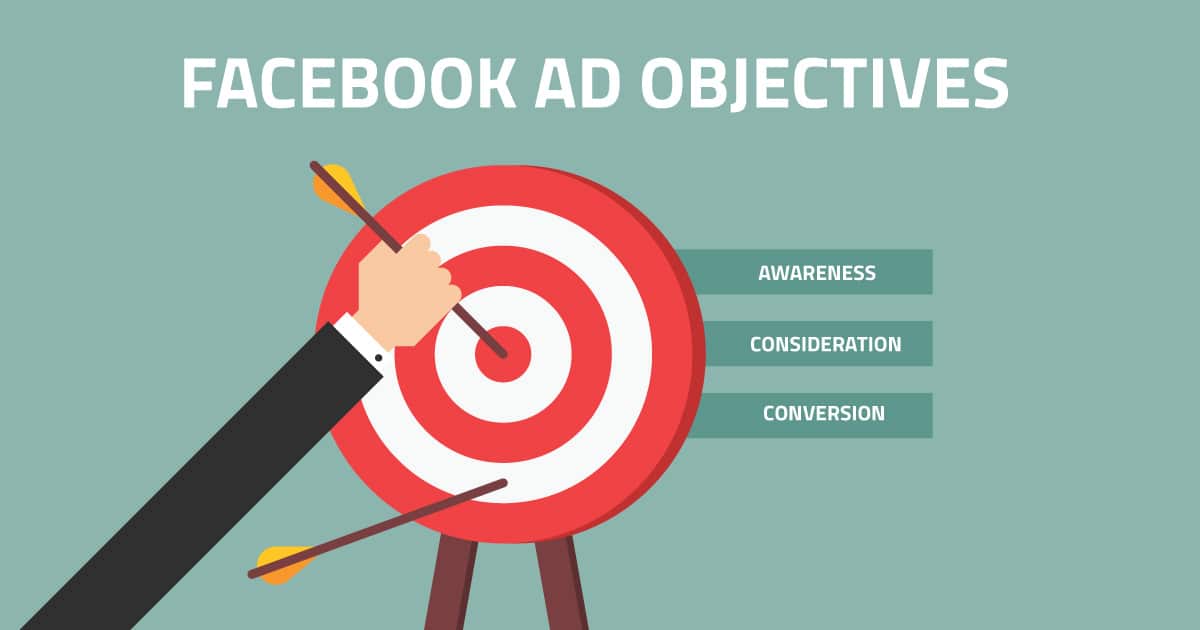 Facebook Ad Objectives – Choosing the Right Objective for Your Business Goal  
One of the reasons why Facebook Ads are so powerful, is their features of letting you set specific objectives that your brand aims to meet. These objectives are the action that you want people to do when viewing your ads, with there being 3 top tiers – and various individual objectives underneath.
Awareness Objectives
These are seen as top of the funnel, as they are aimed at generating interest in your products or services that you have to offer.
Brand Awareness – These are used to reach people who are likely to recall your ads and brand. Rather than click through or buy, your aim here is to get people to be aware of your brand.
Reach – This will show your ad to the maximum number of people within your audience and budget. This can be helpful when targeting a small audience to get them to convert on your site.

Consideration Objectives
These are middle funnel, used to reach people who already have interest in what you offer. These people may be more likely to engage in your content, and want to find out more information about it.
Traffic – This aims to increase the number of visits to your website or app. This aims to drive traffic outside of Facebook, whether that's a landing page, blog post, podcast or app.
App Installs – This sends people to the app store to discover and download your app.
Engagement – This aims to get more people to see and engage with your post, through comments, shares and likes. This includes raising attendance to your events, and offer claims.
Video Views – This aims to raise awareness about your brand through behind the scenes footage, customer stories and product launches. This is great for retargeting purposes for future ad campaigns.
Lead Generation – This is used to collect information from people interested in your business, such as their email address or phone number. This is used to generate leads on Facebook, without sending people to your website. This can lead to you obtaining the best data as it is simple for people to fill out.
Messages – This helps to increase the number of conversations people have with your business in order to generate leads, offer support or help, and drive transactions.
Conversion Objectives
These are bottom of the funnel objectives aimed at people interested in your business, used to get people to register, download or purchase.
Conversions – These objectives get people to use your app or website. You can use Facebook pixel or app events to track and measure these.
Catalogue Sales – This type of ad shows your products from your catalogue, based on your target audience. This is best when you have an e-commerce store and would like to promote your products
Store Visits – These ads promote your business locations to people nearby. This can be used if you have multiple locations. The aim of this is to increase footfall to your business, and the ads must be timely based on users current location.
Overall, Facebook Ads are really beneficial to any company, and their objective choices allow you to get the return that you want. You should remember to also choose an objective that aligns with your overall business goal. Still confused? Our Facebook and Instagram Ads Training covers all of the above in more depth, plus everything else you need to know to optimise your Facebook ad campaign.
Related Services
We offer a Facebook Ad training courses for you and your team, at your offices. This aids your learning in creating and managing your next Facebook Ad Campaign.