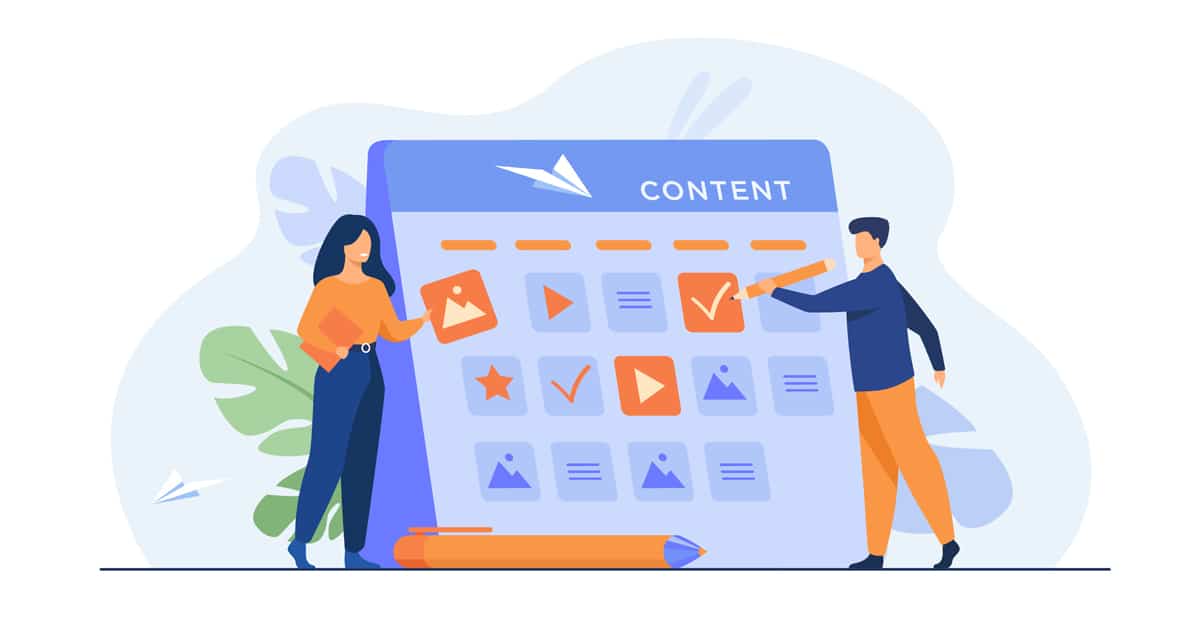 Your Guide to a Social Media Content Calendar 
One of the best ways to grow on social media is by posting consistently and interacting with your audience. To make this easier, a social media content calendar is vital, as it allows you to schedule posts to save time and effort, as well as being able to identify what content is planned for when. 
What is a Social Media Content Calendar? 
This is a calendar to organise and schedule your content across your social media platforms, and is a great way to stay on top of your social media strategy and posting. There are some different ways to create your calendar, such as through pen and paper and a physical planner, via Google Sheets or Excel spreadsheets, or with an online social media management tool. 
Why Do You Need a Social Media Content Calendar? 
A Social Media Content Calendar allows you to identify exactly what content you need to create and when and where to publish it. Here are a few benefits of having a social media schedule:
Work Smarter Not Harder
Add content on mass for the upcoming week or months content. You'll save hours compared to taking time each day to plan out posts. Each week you should prepare for the following weeks social media content, which also helps to reduce miscommunication and allows you to focus on other tasks. 
Brand Consistency 
Calendars allow you to see what you've already published in the past and ensure that the content across different channels is cohesive. Content on each platform should look and be different (such as image format, link format, tone of voice etc). 
Team Collaboration 
A social media calendar can be a destination that the whole team can access and contribute to. 
How to Start a Social Media Calendar 
Start off with a quick audit of your current social media channels, look at who the audience is for all. You can also use the analytics tools on each platform to see which has the most active audience – and make this channel your highest priority. 
Then, decide where you are going to host this calendar – whether it be a third party software (such as Later), or a Google Sheets or Excel Sheet. 
Look at your objectives to create a realistic posting schedule for all platforms, and put it into your calendar. A good idea is to sort this into months and weeks, for example, have each sheet called a different month, and within that sheet break it down to rows for platforms and then each day of the week. Don't forget to include Saturday and Sunday too! 
Once you have decided how much and often you need to post, you need to plan the actual content! Stick to the 80/20 rule – 80% adding value to your customers, and 20% selling your products or services. 
Start planning at least 1 month ahead, to allow you to create content (such as images etc). Also, taking the time to schedule posts in bulk is a great way to remain active on each platform, without having to spend as much time on social media each day.  It's also a good idea to alternate days, by posting the same content on different days. This will allow for higher visibility with new audiences. 
How to Manage Social Media Schedule 
Using insights from your Social Media channels is key. Make sure to view how the posts are performing on different platforms – this will help to inform your future decisions and influence what and when you post on each social media channel. 
Facebook and Instagram each have their own Insights tabs, which allows you to see the analytics for your posts and also audience figures. You can then see which days and times are best to post across each platform, for example when people are on their commute, in the evening, or weekends. 
If you're using a social media calendar tool online, there may also be analytic available here too. 
Social Media Calendars are important for any marketer and business, and are a great way to stay in front of your customers online, helping to boost your sales. If you need help with Social Media management, contact our social specialists to see how we can help. 
Related Services
We can help mange your Social Media presence on a variety of platforms through posts and ads campaigns.