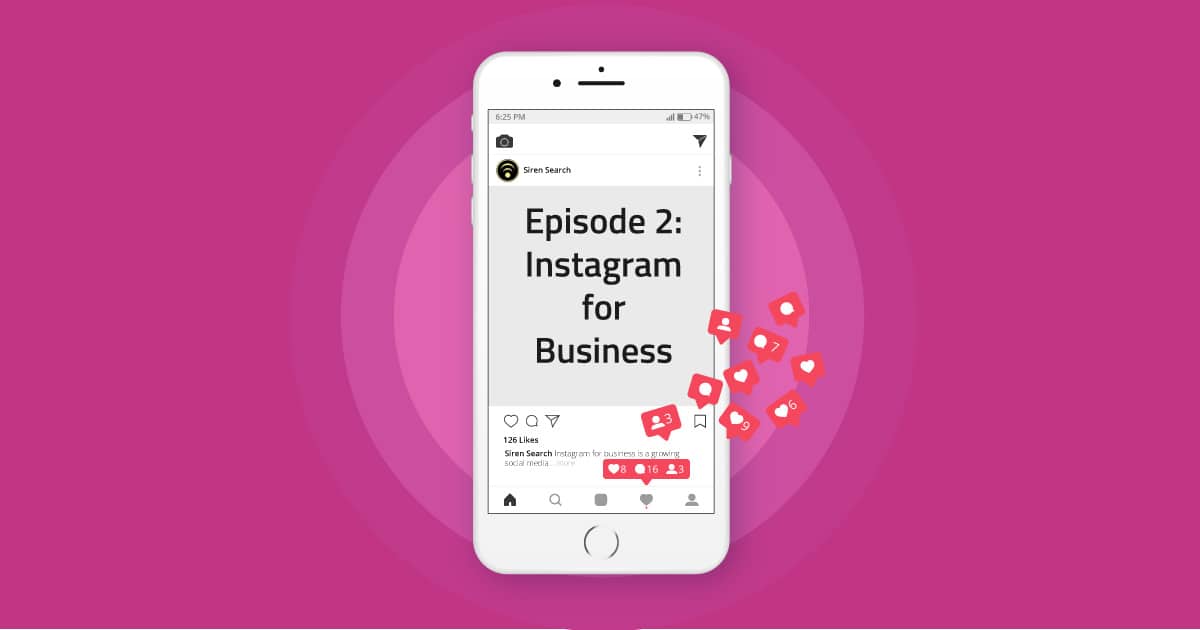 Episode 2: Using Instagram for Business – How to Grow 
Welcome back to the second instalment of our Instagram for Business tips blog post, where we are looking at how you can use the growing social media channel to grow your business. Last time, we looked at why you should use Instagram for Business, and in this post we will look at how you can use the platform to grow your brand awareness and visibility. 
Without further ado, let's get started… 
How to Grow on Instagram for Business 
1. Add a URL to your bio 
Unfortunately, you are unable to post links in post captions, meaning that the link in your bio is even more important. It gives you the opportunity to drive targeted traffic back to your website. This can be a link to the homepage of your website, a sign up form for your newsletter, or change this to a relevant page/blog post when sharing posts on your feed. 
2. Add a Description 
Adding a meaningful description to your bio will allow you to be clear about what you do and what you offer. Add a message to it that connects with your customers, showing your brand voice, including hashtags, and adding line breaks and emojis to make the bio more readable. 
3. Use Instagram Stories 
This is a feature that allows you to post a picture or image that appears for only 24 hours, unless saved to your 'highlights'. Stories help to improve engagement rate, get more visibility (as some users may not see your post on the feed but will look at stories instead), and enhance overall content. This also allows you to humanise your brand and show behind the scenes and the real people within the business. 
4. Use Insights 
The beauty of an Instagram Business profile is that it allows you to view insights, such as what posts your audience have engaged with most, the best times to post, and lots of statistics. This allows you to improve your posts in the future, to help increase engagement and potential conversions. 
5. Create a Visual Branding Aesthetic 
All of your posts need to 'go together', and it's important to have a recognizable visual identity. Think about what colours you will be posting, whether they will be vector images or photographs, and the props that you use. Photograph your products in natural light, and use online tips to compose the images well. You can then edit these photos using a range of apps and tools to enhance them, and maintain your brand aesthetic to make your images recognizable. 
7. Write Compelling Captions 
Although Instagram is a visual platform, you should still put efforts into the captions to your images, as this allows you to tell a story and makes your photo meaningful. You should always try to provoke an emotion or thought with your audience, and always add a Call To Action – such as 'comment below' or 'visit the website in our bio'. 
8. Connect with the Community 
Social networks are all based on community, so you should be engaging with people and brands. You can do this by responding to all of the comments and mentions on your posts, as well as monitoring hashtags and commenting on the relevant Instagram posts. This is a simple way to make your presence known. 
9. Work with Instagram Influencers 
Working with an influencer whose followers may be interested in your brand is a powerful way to gain access to a loyal following. Instagram Influencers are people who have engaged following that can then promote your brand and products. You can find more information on Influencer Marketing via Later. 
10. Use Instagram Ads 
Using Ads is a great way to get your brand in front of a large and targeted audience, to bring people to your page and increase awareness of your brand. Instagram Ads allow you to extend the reach of your content, whilst including call to action buttons for users. 
Instagram is a great platform that businesses need to utilise, as it can help you to increase your brand awareness and visibility. If you're interested in learning more about Organic and Paid Instagram marketing, contact us now to see how we can help. 
Related Services
We can help mange your Social Media presence on a variety of platforms through posts and ads campaigns.